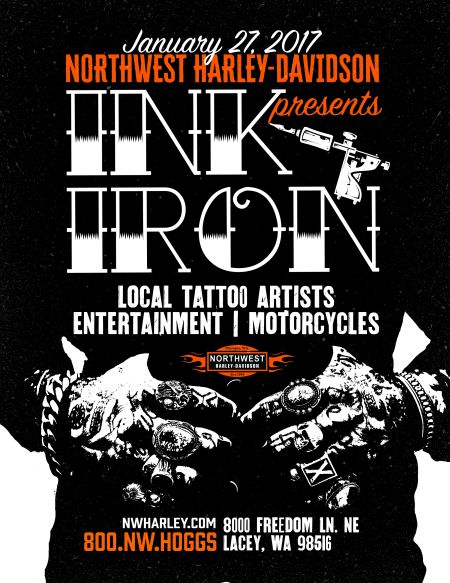 Address
8000 FREEDOM LN NE
LACEY
WA 98516
January 27, 2018 9:00AM - 4:00PM
Come on down and check out the work of some the best tattoo artists in the area. Get some ink done that day or enter the contest ($5) with a piece from your personal collection. Each category will crown one winner with prizes. Judging each category will be our featured tattoo artists.

Featuring local tattoo artist, motorcycle & entertainment!


The Six Ink Categories:

Sleeve

Color

Black & Gray

Cover-Up (must provide a picture prior to cover up)

Worst Tattoo

Harley-Davidson (Any tattoo related to riding, Harley-Davidson, motorcycles, the open road, etc.)


Interested in being an artist or vendor at the show? Please email kylerl@nwharley.com

All rules are non-negotiable.

Entrance Fee for each contest is $5.00

Winner will receive a framed award, $50 Northwest Harley-Davidson Gift Card, and additional item(s) to be announced at show.
Each contestant must pay a $5 entry fee per entry per category. There will be no refunds for contestants who do not attend the contest (times to be announced at convention).
Tattoos must be entered into the correct category to compete.
You must be present 15 minutes prior to competing.
Tattoo's must be complete and fully healed (1 mo. or older) to be entered into competition; except for tattoos done on day of show.
You may not enter the same individual tattoo in more than one category.
You may only enter three categories.
A sleeve must be a half or full arm sleeve or a half or full leg sleeve and it must be complete.
A back piece consisting of one single piece may be entered into any category except sleeve category only.
Black and gray tattoos may have only up to 10% accenting color.
To enter the "Best Cover-Up" category a photo of the original piece to be covered, before any stencil or artwork was done, must be present.
If you are a judge you may not enter any category you are scheduled to judge. You also may not judge a category that one of your artistic pieces has been entered into. If you need to be excused from judging a specific category an alternate judge will be provided.
One award will be given to each winner of each category.
No complete disrobing during competition.


Back to previous page