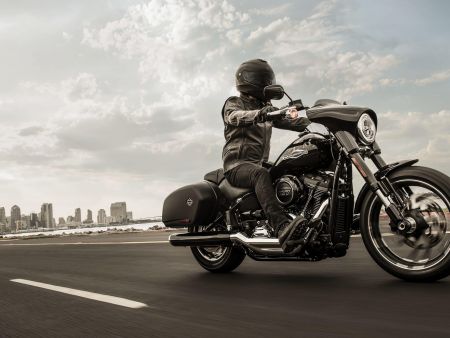 MILWAUKEE (November 7, 2017) – Whoever said you can't have the best of both worlds, has yet to ride the new Harley-Davidson®Sport Glide™ motorcycle. Introduced today in Milan at the EICMA motorcycle show, the new factory-custom cruiser is a versatile quick-change artist, ready to transition in just minutes from aggressive cruising to weekend touring duty. Outfitted with a detachable fairing and saddlebags, the Sport Glide is the ninth model based on the all-new Harley-Davidson Softail® platform and the latest in a line of 100 high-impact motorcycles the company plans to introduce by 2027.

"The Sport Glide offers the thrilling dynamic capability of the new Softail platform with features that make it suited for both commuting and light touring," said Dave Latz, senior product planning manager at Harley-Davidson. "Its factory-custom design speaks to modern performance and contemporary style."
The Sport Glide's new fairing is shaped to deflect wind away from the rider's chest while leaving the rider's head in a clean stream of air. The fairing is secured to the fork tubes with quick-release clamps, making removal or installation fast and easy. The new lockable, rigid saddle bags feature a sleek clam-shell design and can be removed in seconds, leaving behind mounting points that are barely visible. New Mantis cast-aluminum wheels feature sweeping spokes and are the first directional wheels on a non-CVO model.
Designed to be lightweight and stiff, the new Softail chassis delivers agility and performance that will exceed the expectations of the most-demanding cruiser riders, while the rigid-mounted Milwaukee-Eight 107 V-Twin powertrain pumps out a mountain of torque for outstanding acceleration and passing power. A broad and supportive saddle sets the Sport Glide's seat height at just 25.7 inches, with forward-mounted foot controls contributing to a rider triangle designed to fit a broad range of riders. The brilliant Daymaker LED headlamp is surrounded by a ring of LED signature lighting. Anti-lock Braking System (ABS), electronic cruise control, a USB charging port, keyless ignition and the Harley-Davidson Smart Security System are all standard features of the Sport Glide.
A custom cruiser and lighter tourer in one, the Sport Glide model is built on the foundation of the completely reinvented Softail® platform. Other key model features of the new Sport Glide include:
New suspension – Inverted front forks and a new rear monoshock with external preload adjustment give riders the ability to customize their handling profile for any situation; including extra cargo and/or passengers.
Detachable locking saddlebags –Locking rigid saddlebags are standard on the Sport Glide and offer quick, tool-free convenience so the rider can quickly switch from a custom touring bike to a stripped down stylish custom cruiser in minutes.
Detachable front mini-fairing – A front mini-faring introduces a new H-D riding experience by taking wind off the rider's chest while allowing air in the face that riders love and expect from a motorcycle. Its quick detach feature allows for an attitude change on the fly.
Modern technologies – A slew of modern amenities come standard on the Sport Glide, including ABS brakes, security system, cruise control, keyless ignition and a LED forward-lighting system.


About Harley-Davidson Motor Company
Since 1903, Harley-Davidson Motor Company has fulfilled dreams of personal freedom with cruiser, touring and custom motorcycles, riding experiences and events, and a complete line of Harley-Davidson motorcycle parts, accessories, general merchandise, riding gear and apparel. For more information, visit www.h-d.com.